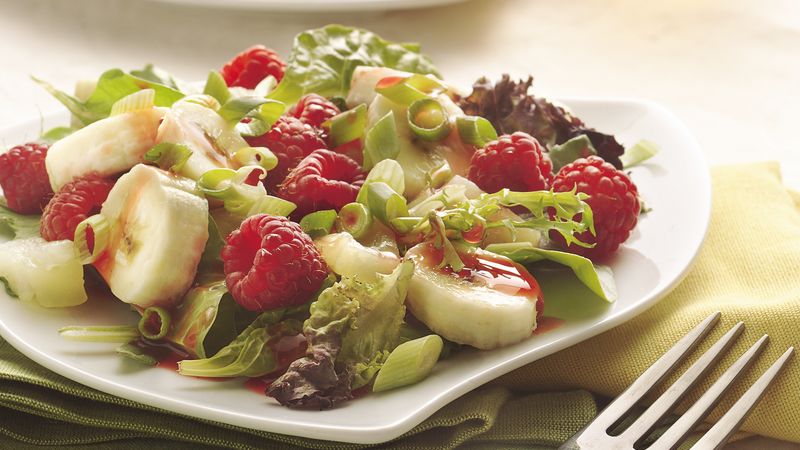 Prep

5

MIN

Total

5

MIN

Servings

4 
Mixed Greens with Fruit and Raspberry Dressing
Five minutes and single step process is all you'll need to wrap up this salad made using mixed greens and fruits, drizzled with vinaigrette.
Super simple, it's great for people that are short on time and need something they can make quickly for lunch and there's numerous ways to switch this recipe up by using All different kinds of food ingredients, as in Fruits maybe even try to switch up the Mixed greens for a different kind of greenery, on top of switching out the fruits for different fruits 🍌 🍎 🍉 there's SOO many different variations of different combinations you could apply to this recipe for something quick for lunch. Weather it be for just you and the Fam or bringing extra servings for friends at work, whatever your situation may be this is Super Easy whichever your situation yours is, even if I happened to not list it. This is something that only takes 5 mins of your time. Try it out and let me know what you think, Please I'd love to hear your feedback on how you mixed up the recipe in what variations you used to change it if you did? I've listed the recipe but you can find the original on the Betty Crocker Kitchens website listed below or above whichever is easier for you, this will help you start out with your Health Plan, Diet and Nutrition, to start a new Healthy lifestyle, when you look up Healthy Meals and put in specifics designed to fit YOU personally, just answer the few short questions and your good to go! @
https://www.bettycrocker.com/about-us
Ingredients
2

cups mixed salad greens

1

can (8 oz) pineapple tidbits, drained

1

cup raspberries

2

medium bananas, sliced

2

medium green onions, sliced (2 tablespoons)

1/2

cup fat-free raspberry vinaigrette
1

Among 4 salad plates, divide all ingredients except vinaigrette. Drizzle with vinaigrette.
Mix and match the fruits in this salad. Try blueberries instead of raspberries or cut-up fresh mango instead of the pineapple.

To make a main-dish salad, top with a grilled chicken breast or several strips of leftover roast beef.
Nutrition Facts
Serving Size: 1 Serving
Calories

120
Calories from Fat

5
Total Fat

1/2g
1%
Saturated Fat

0g
0%
Trans Fat

0g
Cholesterol

0mg
0%
Sodium

190mg
8%
Potassium

440mg
13%
Total Carbohydrate

28g
9%
Dietary Fiber

4g
18%
Sugars

19g
Protein

2g
% Daily Value*:
Vitamin A

30%
Vitamin C

40%
Calcium

4%
Iron

6%
Exchanges:
0 Starch; 2 Fruit; 0 Other Carbohydrate; 0 Skim Milk; 0 Low-Fat Milk; 0 Milk; 0 Vegetable; 0 Very Lean Meat; 0 Lean Meat; 0 High-Fat Meat; 0 Fat;
*Percent Daily Values are based on a 2,000 calorie diet.